Mesotherapy is a technique designed to return the skins youthful natural glow by using a special injector consisting of 9-12 micro needles. The device injects vitamins and minerals into the skin including Vitamins, antioxidants,enzymes and other various nutrients.
Since these vitamins and nutrients are injected into the skin rather than applied topically, the results are longer lasting. By feeding the skin the antioxidants and minerals it needs, it is able to shine and glow. Along with leaving the skin with a glowing appearance, the treatment also helps to remove wrinkles, fine lines, and acne scars.
Mesotherapy is commonly used to help :
fade wrinkles and lines
tighten loose skin
lighten pigmented skin
Dark under eyes
Options:
View Full Menu
Book Online

DERMACARE
Derma Care is extracted from nature that the skin demand more than 90 % The key ingredients are Amino Acid and necessary Peptide for skin more than 100++ types.
This product does not contain any of the preservative substance the necessary posture on the skin, Dermacare is an excellence skin food source which helps reboots and repairs damaged skin and revitalizes the skin within 24 hours.
Rejuvenation And Brightening Effect Is A Solution That Stimulates Skin Tissue Repair And Contains A Combination Of Polypeptides Increase Collagen Synthesis And Dermal Thickness
Main Ingredients :
- Polydeoxyribonucleotide(PDRN) 2 %
- 20 Multi peptide
- Niacin-amide
- Sodium DNA
- Hydrolyzed Collagen
- Hyaluronic acid
- 20 vitamins
- Co - enzyme 10
Benefits :⁃
- Rapid tissue regeneration
- Improve skin elasticity and pore tightening
⁃ Brightening improve skin tone & texture
⁃ Anti aging & wrinkle
⁃ Moisturizing and Hydrating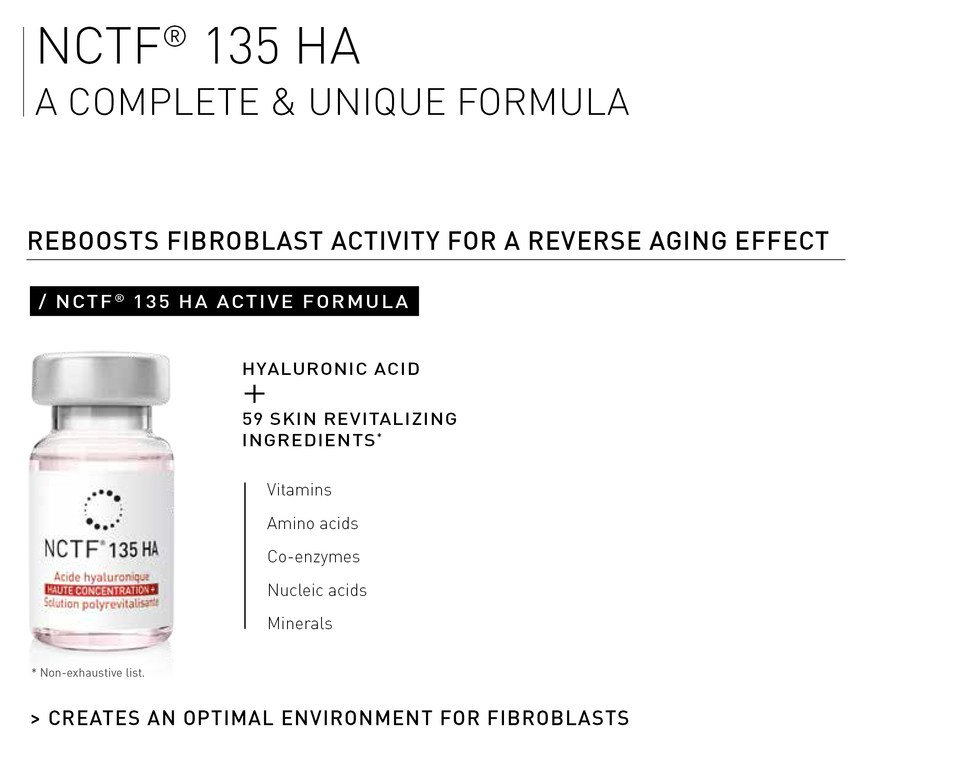 NCTF135HA
NCTF 135HA is an anti-aging solution. Perfect for filling fine lines and for moisturising radiance and tone boosting or tired-looking skin. Plus helps prevent the appearance of signs of skin raging, like wrinkles
Who is suitable for this treatment?
Does it hurt?
A little discomfort. Numbing cream will be applied
How many sessions are recommended?
2 weeks/2 sessions then 4 weeks/2 sessions
Derma care (5ml)- Full Face
NCTF135HA - Under Eyes (1.5ml)
NCTF135HA - Neck line (1.5ml)
NCTF135HA - Under eyes+ Neck line (3ml)
NCTF135HA - Full face (3ml)