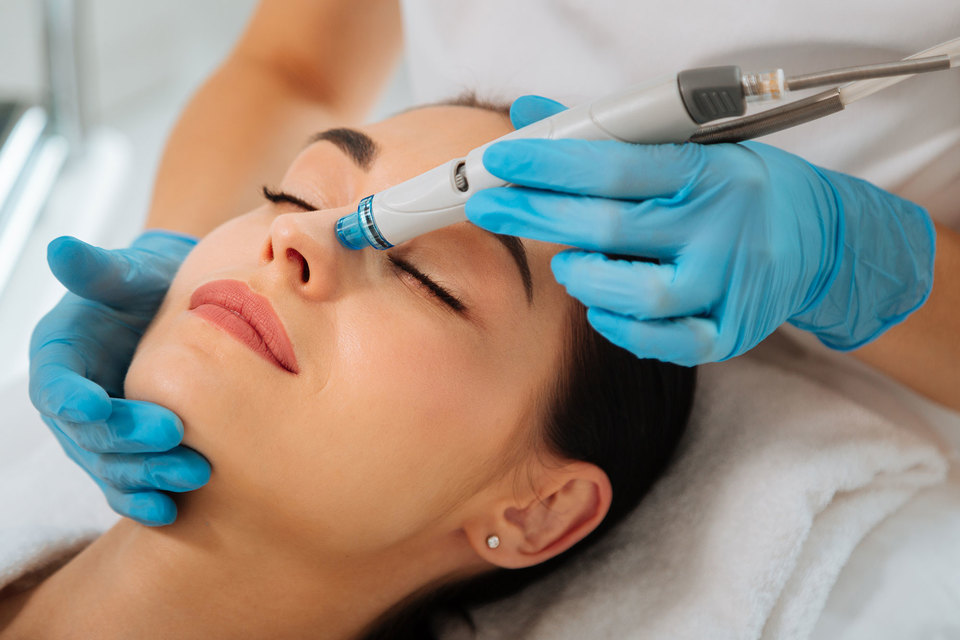 Hydra Facial or Hydrodermabrasion is a treatment that uses patented technology (a medical-grade device) to cleanse, extract, and hydrate skin with water. It clears dead skin cells, loosens pores, and preps for extraction by uses a unique vacuum-powered extraction method to remove "gunk" from the skin in a virtually painless procedure.

1. Cleanse
Facial cleanse
2. Facial Steam
Open up pores
3. Exfoliation
Premium scrub
4.Hydrodermabrasion
Dead skin, White/Black Heads, Clogged pores removal
5. Low RF (Radio Frequency)
Skin Tightening
6. Facial Mask
Your choice of mask
7. Boost & Protect

Moisturiser and 50 SPF UVA & UVB Sunscreen Protection
Who is suitable for this treatment?
How many sessions are recommended?
6 Sessions depending on the skin types
Not at all! Rather relaxing
Hydradermabrasion- Mini : 30 minutes
1. Double Cleanse
2. Hydrodermabrasion
3. Extraction
4. Your choice of mask
5. LED Light therapy
6. Boost + Protect
Hydradermabrasion - Deluxe : 60 minutes
1. Double Cleanse
2. Steam
3. Exfoliation
4. Hydrodermabrasion
5. Nose Extraction
6. Low Level RF- Skin Tightening
7. Your choice of mask
8. LED Light therapy
9. Boost + Protect
Add on- LED light therapy
Add on- Esthemax Hydro Jelly Mask